Post by Kusy on Mar 31, 2015 12:44:39 GMT -5
just so the wolf looks at the forum, and not away :U
31.3.
---
Guys, after getting so many requests to draw people's signatures, I decided to create a lineart-thread, so I don't have to make your signature, but you can make your own with my art. It's not the same, I know, but time is money as the saying goes... and I don't have the one or the other :U
so, in order to make you all happy, I created these linearts for you to use. They're already in the format of a signature, namely 800x250px;
Some things to consider when using them, though:


You may use them everywhere


Don't claim them as your own or sell them anywhere else


Would be nice if you would give credit by remarking 'made by Kusy' here on the forums, and everywhere else,( if you use them somewhere else) 'made by Barkyn'


Just simple things to avoid them getting stolen or... used without permission :U
You can download them as PSD or PNG files, whatever you like.
(The main color when downloading PNG is not gray, though, but white. Don't be scared, it's the same :U)
I included instructions on how to use them (or rather, how you could use them) at the end of this picture row,
and you'll find the download links to them at the end of this post
(also, two of them were actual siggies that I used and simply traced again :U)
Sometimes the base-layer where you color is not totally clean, like it sticks out at some edges. You'll have to erase them by yourself, sorry ovo
I'll add more of them in the future, no worries ~
AND
if you have any suggestions for future signatures, just let me know ovo might consider them if more people want them.
#1 neutral

#2 smug/tired

#3 displeased

#4 slightly angry

#5 bored/disinterested

#6 snarly wolf

#7 crazy snarly wolf

#8 spitting wolf

#9 crazy spitting wolf

#10 cute wolf/pup

#11 standing wolf

#12 another snarly face

#13 just a mouth

Steps on how to use them / or suggestions: (sorry that it's partly in German ;A; didn't switch languages)
PSD
---
When you downloaded the PSD file, you should have these layers in groups, usually. In this case the profile wolves: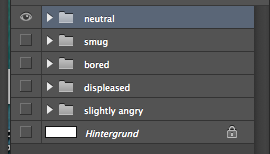 When opening one group folder, four layers should be there.

1) shading
2) lineart
3) fur texture
4) Ebene (Layer, just the basic layer with the grey color)
(some wolves have more layers, some less (one got "Spit" added, other ones don't have fur texture))
'Shading' is for extra shading, sort of. So if you make the layer invisible

Your wolf does not look like this anymore: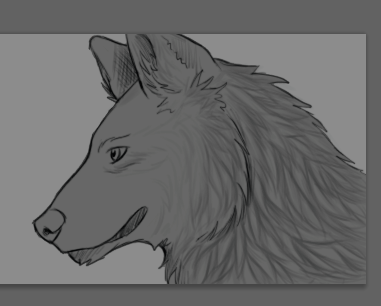 but like this: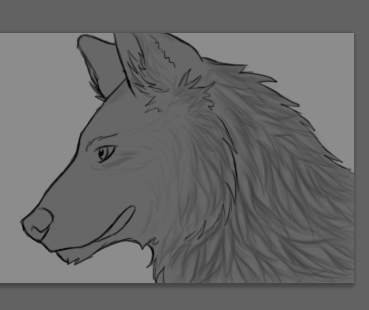 It's not really necessary but I like that sketchy style so I usually add that to it <:
Once you start coloring, you should set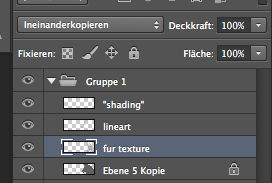 fur texture layer to Overlay (this case Ineinanderkopieren)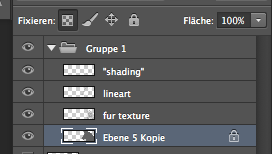 and start coloring on the layer below. In case you use Photoshop or other programs, you could 'lock' the layer so your brush strokes stay within the colored base. In case of Photoshop it's the little grey square that you have to click on (next to Fixieren or.. Fixing in English? No clue)
So when you color, you can just 'replace' the grey color with a new color: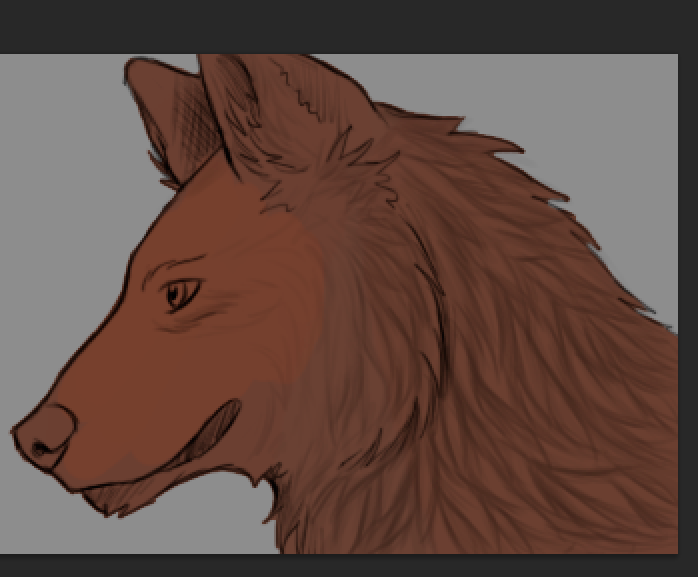 - OPTIONAL -
Once that's done, I usually duplicate the layer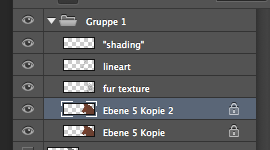 pick a darker color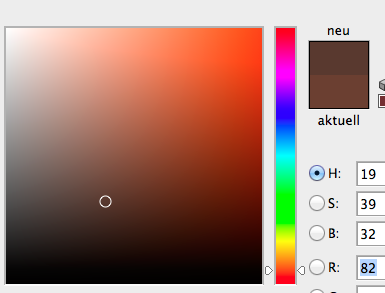 and start giving the fur more shadows, by drawing brush strokes in the darker areas so it looks like this: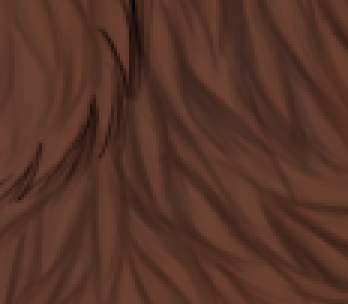 Then, I choose a lighter color and draw over the lighter parts, avoiding the darker parts , like this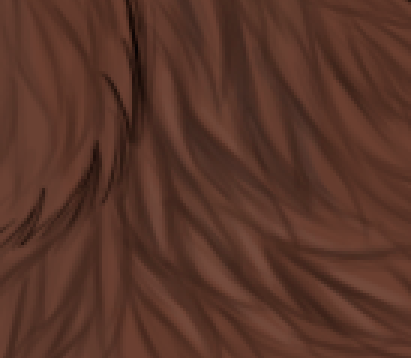 So the fur gains more depth <:
PNG
---
In case you can't open the photoshop file, but downloaded the PNG file, you'll open the file and just find one layer:

called lineart. (Or other names o-o You'll see I guess)
Create a layer below it:

and set the lineart layer to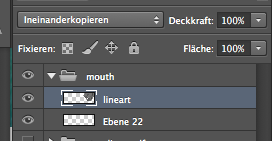 to Overlay again.
Then just color it on the layer below Lineart, and it should work fine ~
Downloads
31.3.
---
PSD + PNG files
You see folders there, one for PSD, other for PNG.
CloudAlpaca, Photoshop, Paint Tool Sai can open Photoshop files. So use them
PSD
Attention:
#11 the layer fur-texture should be set to opacity 50%, otherwise it looks silly.
PNG
I provide them with the shading layer and without the shading layer. In case someone wants it without the fur, just let me know and I'll provide that too
They're also packed in a zip file, so you have to unzip them first.
---
what you could do with them
Does your wolf have a dark side but is all friendly on the outside?

Or is he just a shadow of his former self?
(there you can see how the basecolor on the nosebridge is not really cleaned up. Sorry ;A;)

do you want two faces of your wolf in the signature?

Aggressive + crazy aggressive?

put a frame around your wolf

Wanna have your wolf standing somewhere else so you can put text there? Just move them

Is your wolf all friendly and cuddly?

etc etc